The Retail industry continues to undergo a systemic shift in consumer buying habits and infrastructure due to increased global competition and a shift from brick and mortar to e-commerce. These changes pose a unique challenge for Retail organizations as they continuously assess and reassess their key drivers of profitability.
Best-in-class global retailers leverage data analytics to gain a better understanding of the factors impacting a product's performance. Peloton's Retail industry experts have identified key themes crucial to understanding, assessing, and measuring profitability: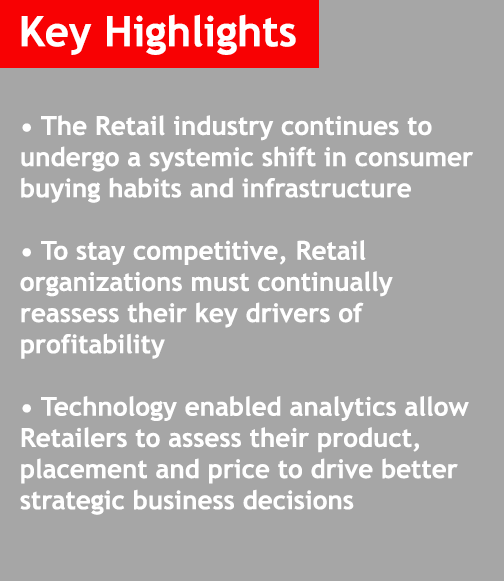 Inventory Management – A key driver of profitability for any retailer is the ability to manage inventory effectively. Do we have the right products at the right stores? Do our Inventory Turns support the amount of inventory we have on hand? These questions are all top of mind for any merchant. Having easy access to accurate inventory data allows retailers to evaluate current inventory levels in a timely fashion and make better future buying decisions.
This capability allows retailers to decrease inventory carrying costs and increase profitability.
Pricing Strategy – Having an Inventory Management Strategy is critical, but if the product is priced too high or too low the strategy may not matter. Retailers often ask themselves, what should our current
pricing strategy be? Do we have the data to understand if it is working? Do we have the tools to model our markdown strategy? Peloton's Retail industry experts find that our customers have great ideas but are often constrained by the tools available. Successful retailers have the ability to analyze the price of goods near real time, understand how price affects demand, and adjust accordingly to maximize profitability.
Real Estate Management – While Omni-channel continues to grow, retailers will continue to see real estate and occupancy costs weigh heavily on profitability. Retail organizations must decide whether their real estate teams have the right information for effective contract negotiation. Does your team understand the ratio between Sales per Square Foot and Monthly Rent per Square Foot? If not, there may be a disconnect between the information you have and the information you need.
Managing Store Labor – Despite the continuing shift of consumers to the Direct / EComm channel, most global retailers still have a significant store footprint. One key driver of expense for Stores (often the largest expense) is Store Labor. Do you and your managers have the data to make the right staffing decisions based on employee level costs, customer counts, holidays, and promotion timing? If not, there are likely opportunities to align your store labor plan to planned sales to ensure customer service levels are being met while also managing costs.
Peloton knows that Retailers equipped with the right information at the right time will continually out perform their competition. As a result, retail organizations need dynamic analytic capabilities to measure profitability across locations, products, labor, and customers to ensure success. Peloton's most successful Retail clients leverage a robust Profitability Suite – Oracle's Hyperion Platform (On-Premise or Cloud) as the foundation for their processes. Peloton is strategically focused on helping our Retail customers utilize this technology and implement a strategy to drive business performance by discovering cost and profitability drivers and providing the necessary insight to make strategic decisions regarding inventory management, pricing strategy, supply chain, labor, and other profit-impacting decisions.
Contact us to learn more about how we have partnered with Retail organizations like yours to measure profitability and manage their business more effectively.