Oracle released its Planning and Budgeting Cloud Service (PBCS)  solution. This new offering is based on the time-tested Hyperion Planning and leverages its best-in-class user interface, while also promising to reduce barriers to entry for implementing enterprise-class planning & budgeting technology thanks to its cloud-based deployment model. At the core of the PBCS product is Hyperion Planning, Oracle's existing on-premise planning & budgeting solution. PBCS offers users the benefits of an enterprise-grade solution and, by hosting it in the cloud, at a significantly lower cost. Thus, PBCS provides tremendous value for both middle market and enterprise customers – smaller deployments can easily scale as the business grows, while large enterprise customers can benefit from cloud deployments of their existing applications. While PBCS provides end users a similar experience to Hyperion Planning, a number of key differences existbetween the two solutions. In this article, we'll discuss how PBCS differs from the traditional, on-premise Hyperion Planning that you may be used to.
End User Experience Rather than logging into an internal corporate network, end users and developers for PBCS applications log into the cloud portal on Oracle's website. This provides access to business applications anywhere, without requiring local hardware or network access. Once logged in, users enjoy the same best-of-class user interface for web forms, task lists, and business rules.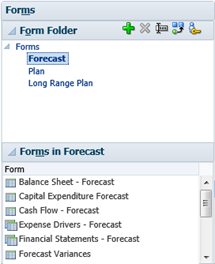 A splash page unique to PBCS offers users several options, including the ability to create and manage their application:
Create Application / Launch Application – shortcut to open or create application
Admin Tools – delete application, access Application Management
Tools – view calculation manager, install supporting software (e.g. FR Studio)
Admin Tutorials – tutorials on creating applications and best practices test
Documentation – view supporting documentation / guide on PBCS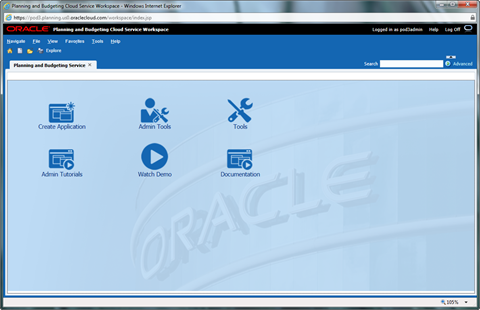 Administration While the end user experience in PBCS is similar to Hyperion Planning, the maintenance and administration process can be different. Within on-premise Planning deployments pre-11.1.2.2, many EPM administrators rely on the Essbase Administration Services (EAS) console for maintenance tasks related to Hyperion Planning Essbase databases. Data loads, database settings changes, and calculation script changes all required access to EAS. Starting with on-premise Hyperion Planning 11.1.2.2 and continuing through v. 11.1.2.3 and PBCS, many of the key administration tasks traditionally performed in EAS can now be performed within Workspace, including both data and metadata loads. This allows PBCS to be a fully functioning Hyperion Planning deployment without relying on the EAS tool. Administrators are able to perform all maintenance activities within Workspace, significantly simplifying their workstream.

Security Security also differs between on-premise Hyperion Planning and PBCS. Although security concepts such as dimensional, form, and report security are consistent between the two products, the way users are provisioned is different. In on-premise deployments, users are typically provisioned through their existing Lightweight Directory Access Protocol (LDAP) or Microsoft Active Directory (MSAD) accounts. To enable authentication that is hosted on the cloud, PBCS does not use LDAP or MSAD. Instead, Oracle Identity Management (IDM) – Oracle's Cloud user profile management offering – is responsible for authenticating user access. Administrators can migrate existing provisioning information from existing authentication systems (LDAP, MSAD, etc.) into the cloud-based instance of IDM that comes included with PBCS.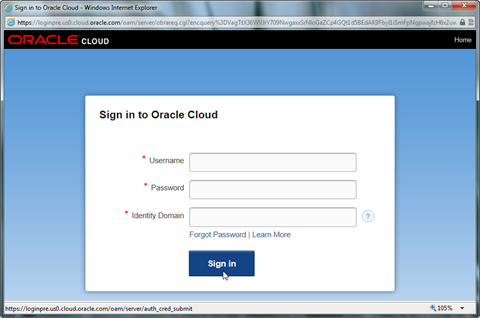 Application Development Application development and management are also unique within a Planning and Budgeting Cloud Service application. PBCS supports classic Planning applications only and does not yet support Enterprise Performance Management Architect (EPMA). Potential users should also note that PBCS does not yet support out-of-the-box Planning modules that are available in on-premise Hyperion Planning, including Workforce Planning, Project Financial Planning, and the CapEx module. Similarly, while Hyperion Planning utilities (e.g. the Outline Load Utility) are not available via the file system, many can be accessed through the Planning user interface.
Get Started Now Oracle Planning and Budgeting Cloud Service offers tremendous value for prospective customers – it allows new enterprise users to quickly adopt a leading technology while minimizing their initial capital investment. For existing customers, PBCS can reduce existing IT costs and make applications available on a global cloud platform. And, while there are a number of differences from Hyperion Planning, PBCS has been built on the same proven platform used by Fortune 100 companies.
Interested in learning more or getting started on a Planning and Budgeting Cloud Service implementation?