Introduction
In the current economy, there are many challenges to running a profitable, sustainable retail organization. Managing these challenges requires a detailed focus on every facet of operations and customer experience. Successful retailers must pay careful attention to key areas of their business, including staffing, sales, logistics, controls on cash, and inventory. Monitoring these key areas provides the organization the ability to act and adjust as the market and environment evolves.
Store Operations Planning is a critical component of a retail organization's ability to monitor and act upon market factors. Unfortunately, many organizations have complex and manually maintained Store Operations Planning solutions in Excel or other tools and are thus unable to plan for the dynamic retail environment. This is mainly due to limitations imposed by their current planning process and system. These legacy planning applications result in many challenges including:
Budgeting, forecasting, and reporting processes and tools that do not adequately meet the scale and complexity difficulties facing the retail organization
Constraints around rigorous modeling, what-if analysis, and planning key strategic initiatives
Long cycle times for budget development and rollups
Error-prone, manual workarounds
Inconsistent planning processes and calculations across business units
Limited capacity to link sales and labor changes with other expenses
Limited capability to plan global assumptions across stores with common characteristics, including Comp stores
To support these needs, Peloton has developed an Integrated Retail Performance Management Process comprised of distinct, interconnected strategic and operational processes. The Store Operations Planning Process is a critical component of an Integrated Retail Performance Management Process that allows businesses to possess a distributed, iterative, and effective planning process.
 By implementing an Integrated Store Planning solution to address business problems and key challenges, organizations can transform what is a time consuming, manual planning exercise into an efficient solution with reduced planning cycle times that aligns with strategic targets.
Store Operations Overview 
So, what does Store Operations Planning entail? Typically, planning functions follow P&L categories and are grouped into Sales Planning, Cost of Goods Sold, Labor Planning, Variable Expenses, and Fixed Expenses. Variable and Fixed Expenses can also be referred to as Controllable Operating and Other Operating Expenses, respectively. In addition to planning across the P&L categories, the following key functionalities are required:
Use of a driver-based sales planning model that contains assumptions, which are applied across groups of stores
An integrated plan that enables changes in sales to dynamically update other P&L components like margin, labor, and other variable expenses
Integration and consolidation of the store plans to the corporate P&L
Planning segregation of the store plans across the organization by P&L area or store region
Visibility and analytical tools for store performance and impact across the organization
The Store Operations Planning solution provides a systematic flow of the planning assumptions throughout the P&L. Increased visibility to key metrics then drives business insights, allowing the organization to increase profitability with improved sales, increased margin, and reduced operating expenses.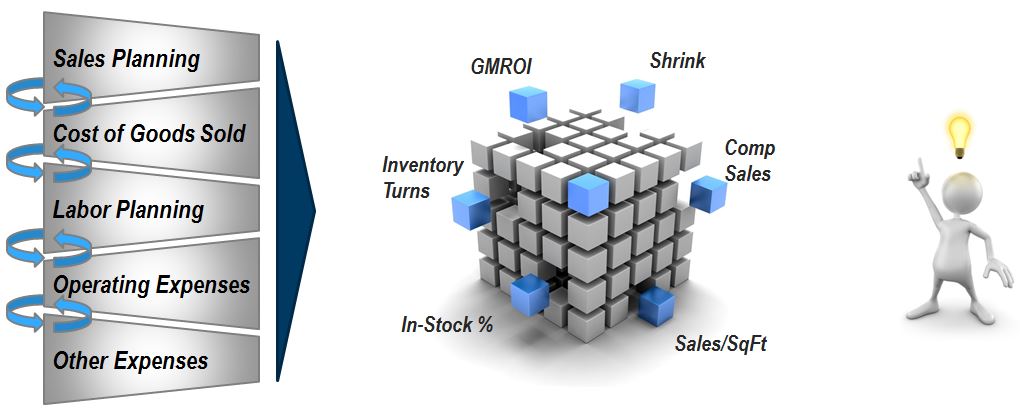 Key Planning Challenges
Due to the complex nature of Store Operations Planning, organizations often suffer from a core set of common key planning challenges. For example, planning cycles typically take multiple weeks to assemble using very large Excel spreadsheets, which have the potential for errors and limited capabilities to roll up store plans within and across business units.
Additionally, these Excel-driven planning solutions prevent the business from generating robust models, applying global assumptions, and using standard calculations; this results in an annual planning and forecasting process that takes very long to complete.
Below are some additional common issues we have observed across retail organizations:
Processes not aligned with strategic direction
Large, disconnected spreadsheets
Inconsistencies between planning processes and calculations across business units
Limited capacity to link sales and labor changes with all other expenses
Lack of store attributes for planning exceptions and outliers
Challenges to planning strategic initiatives and seeing the impact on the organization
Recommended Process, Functionality & Benefits
To address these key areas of planning functionality, Peloton recommends organizations to take a phased approach when implementing a Store Operations Planning solution. A phased approach allows the organization to build a planning foundation and adjust their planning processes and culture around the solution. To support that phased approach, we have developed a Store Operations Maturity Model to allow organizations to perform a benchmark against the ideal end state vision.

Stage 1: "Build the Foundation"
Since a new planning solution typically replaces Excel-based models that present many challenges and exhibit limited functionality, the first stage of the journey and maturity model is the Foundation stage. Establishing the foundation addresses many of the key planning challenges and allows organizations to realize several of the initial functionalities and benefits not available in Excel-based models.
While every organization's planning needs are unique, common foundational functionalities include:
Driver-based planning where sales plans drive results throughout the P&L
Standardized calculations across stores and business units
Global driver planning
Real-time consolidations of stores within business units and for consolidated organizations
Comp vs. non-comp planning
Basic store characteristic planning
Bottoms-up planning
Real-time standard management reporting with ad hoc analysis capabilities
Stage 2: "Expand the Core"
As organizations continue down their planning journey, the second stage builds upon the foundation and drives more value from the solution by incrementally building advanced planning and reporting capabilities.
Typical functionality delivered in Stage 2 includes:
Dynamic tops-down and bottoms-up planning
Advanced store characteristic planning
Basic pro-forma planning models
Basic what-if planning and analysis
Additional KPIs for inventory management and analysis
Additional data source integration
Advanced reporting and analysis capabilities
Stage 3: "Leverage and Optimize"
While the majority of organizations are in the first two stages of maturity, a few organizations may evolve to the third stage: Leverage and Optimize. It is during this stage when organizations fully integrate the Store Operations Planning functions throughout multiple planning processes and leverage advanced planning capabilities.
Stage 3 functionality may include:
Integrating 3-5 year long range planning into annual planning environment
Aligning targets with annual plan/budget
Target setting, spreading, and goal seeking capabilities
Advanced pro-forma modeling capabilities
Rolling comp planning and analysis
Store modeling analysis
Advanced hat-if planning and analysis
Supply chain/logistic integration
Complete data source integration
Benefits
Upon successfully completing a Store Operations Planning solution implementation, organizations realize many benefits, including improved overall alignment with their strategy, goals, and plans throughout the business units and organization. By moving towards standardization, systemization, and automation, organizations shift from an environment focused on data-entry to one performing more detailed and insightful planning and analysis. This results in better decision making and ultimately improved performance.
Additional Realized Benefits include:
Consistency in planning processes between business units that still allows for customization
Robust planning, analysis, and reporting for store groups including Comp vs. Non-Comp Stores and other relevant store groupings
Real-time consolidations of individual store plans within the business unit and to the consolidated P&L
Reduced cycle-time for creating total store P&Ls, allowing more time for review, analysis, and comprehensive planning
Clients typically fully adopt their new planning solutions over their historical Excel-based budget spreadsheets and only use the new solution to build their Budgets and Forecasts going forward. Our clients are able to reduce their budget cycle and some have moved from weekly cycle-times to mere hours, while others have been able to start their annual planning processes six weeks later than previously as a result of the solution implementation.