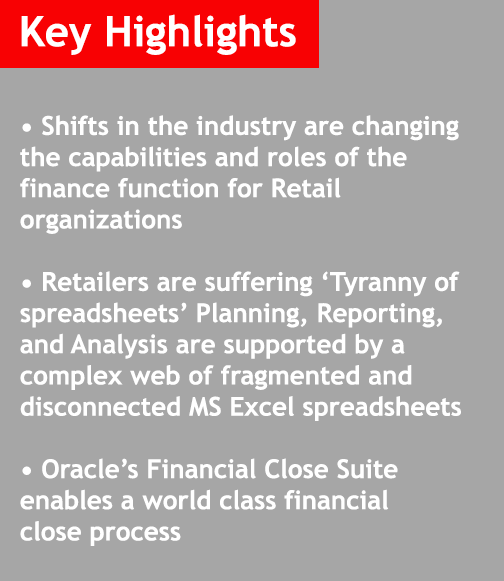 Retail is undergoing a period of significant change – consumer behavior is shifting, supply chains are becoming more complex, new channels are emerging and the industry is becoming more global. All of these factors greatly impact the time, effort and complexity of the Financial Close, Consolidation and Reporting Process. Leveraging Microsoft Excel to support this process is becoming increasingly complex and increases the risk levels associated with the process – particularly for retailers that are acquiring new companies and brands to broaden their portfolio and reach.
Our Global Retail clients are leveraging a more robust Close, Consolidation and Reporting Technology – Oracle's Financial Close Suite (HFM, FCM, HTP, FDMEE, ARM, SDM, etc..) as the foundation of their process. Peloton is strategically focused on helping our Retail customers achieve a world-class financial close process. Whether our clients are leveraging the product for streamlining and simplifying their close process or bringing on a newly acquired company – we bring leading business process transformation, technology expertise and the right industry perspective.
Interested in learning more about how we have partnered with Retail organizations just like yours to enhance their Financial Close, Reporting and Consolidation process, including our story of helping a Global Retailer integrate a new acquisition in less than 60 days?