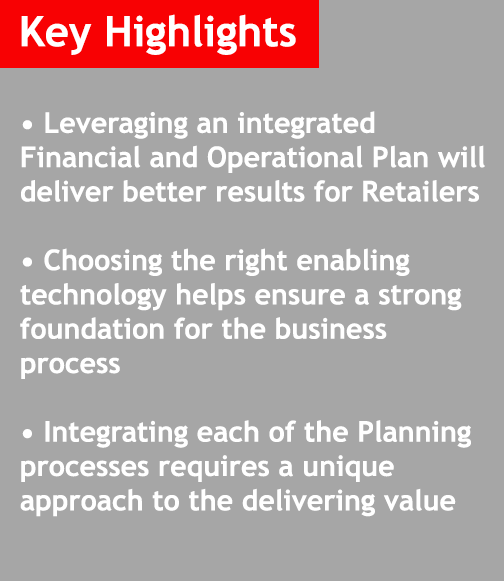 Financial and Operational planning is challenging for retailers because factors such as changing consumer behavior, emerging new channels and increased globalization often lead retailers to plan in silos. When the plans for different departments – Finance, Merchandising, Store Operations, etc. – are unaligned, it creates a fragmented view of the organization. It is therefore critical that each of these departments leverage the same assumptions in order to ensure organizational alignment and a holistic view of the business.
Peloton's approach to Planning is simple – focusing on the integrated planning process across silos, in a stepped approach, is the key to success. While it sounds simple, achieving this is not as easy as one may expect. Each of these planning processes are inherently disparate. For example, global retail teams are not only planning in silos, but they may be in different countries, planning with different business hierarchies, and focused on different priorities – adding levels of complexity to planning. By ensuring the alignment of assumptions, metric definitions, and other key elements of the plan, retailers are able to produce more efficient processes and better results.
Successful Retailers focus on a streamlined, integrated approach to business process transformation. By adopting enabling technology – Hyperion Planning (On-Premise or Cloud), organizations are able to perform and integrate both Financial and Operational Planning to create efficiency, visibility, and better insight into decision making needs. Without an integrated plan – it is increasingly challenging to connect all of these processes needed to gain visibility into how changes to either Financial or Operation plans will impact the business.
How will you ensure the financial and operational plans are truly aligned?Watch our Webinar on Integrated Retail Planning – available on-demand HERE!