Oracle Expenses Cloud – an Oracle ERP Cloud Financials offering – enhances compliance by establishing policies, automating audits, and analyzing expense trends. The comprehensive offering provides organizations with increased workforce productivity and greater control over cost management, allowing managers to quickly obtain key information required to audit or approve expense reports. Employees can now easily submit their expenses through online or mobile entry.
Oracle Expenses Cloud's mobile capabilities empower users to rapidly capture their expenses as they are incurred with minimal data entry. The new Mileage Tracker mobile app feature automatically monitors and produces mileage expense reports so it can be submitted for approval at the push of a button. Expense approvers now have the capability to reject or approve employee expense reports directly from their mobile device.
The Oracle Expense Cloud's corporate card integration feature speeds up entry and eliminates the headaches associated with the submission process. The corporate card functionality provides three payment options: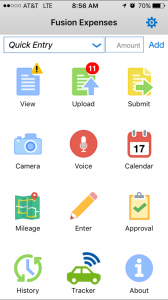 Individual pay allows the employee to pay for all credit card transactions
Company pay enables the company to pay for all transactions
Both pay splits personal and business expenses, with the former being paid by the employee and the latter being paid by the company.
These three options provide organizations with quick and simple solutions for setting up the expense payment process with credit card providers.
Expense auditing is now more flexible than ever, giving management the option of viewing expenses by hierarchy, expense category, and/or by policy violation types and frequency. With the power of Oracle Expenses Cloud analytics, organizations gain clear visibility into who is spending the most and how that money is being spent. The innovations of this product coupled with all the features and benefits empower companies to simplify and streamline their expense process.