Executive Summary: Many companies are implementing digital transformation projects to help them stay competitive as the need to harness the latest technology and access real-time analytics becomes paramount.  Human Capital Management (HCM) cloud solutions are an increasingly popular tool that small and medium-sized companies are using to drive competitive advantage.  This article provides an overview of HCM Cloud and how a company can harness the power from the Oracle HCM Cloud.
Innovation is all around us and whether we're at home or work, we expect companies to use technological innovations to create efficiency.  Many believe that as technology gets smarter, so do we.  Technology enables us to pick up already existing behavior and expands upon it.  It's no surprise then that proactive business leaders are relying on the technology of the cloud to help elevate HR's role and redesign their organization for the future.  In fact, by 2020, 30% of global midmarket and large enterprises will have invested in a cloud-deployed human capital management suite for administrative HR and talent management. (Gartner, 2018).  The transformation is happening now and if your company hasn't yet made plans to elevate HR in this capacity, now is the time.  This article will give an overview into the Human Capital Management (HCM) Cloud, the main benefits, and how the Oracle HCM Cloud solution brings those to life.
What is HCM?
HCM uses the power of cloud technology to deliver a collaborative, talent-centric and engaging experience to help companies modernize their Human Resources (HR) capabilities.  The primary benefits of using cloud technology are that all upgrades are automatic, thus saving time, lowering costs, keeping data safe and using the industry's most innovative technology, thereby giving companies important competitive advantages. With a cloud-based HCM system, companies can quickly implement cutting-edge solutions without wasted time or expense.
There are three primary benefits of implementing an HCM Cloud solution including the ability to:
Get a full view of your employees and their data which will enable better business decision-making
Reduce your IT and testing costs with one upgrade calendar
Increase your security of sensitive information with single sign-on
We'll now dive deeper into each benefit and highlight how the Oracle HCM Cloud solution makes these a reality.
1. Get a full view of your employees and related data, enabling better business decision-making
HR has traditionally been confined to back-office and administrative tasks, but with HCM, HR can now align itself with overall business strategies and help create a digital workforce and workplace and contribute meaningfully to ROI.  For example, with HCM you can easily configure your organizational chart, model your workforce with your compensation data, and set up processes without IT's involvement. Embedded analytics provide a personalized dashboard with the information you need to make informed decisions and be successful. Dashboard and metrics are easy to configure bringing the power of the consolidated, global data to key stakeholders in the organization.  This data is becoming even more critical to businesses in the area of headcount analysis, organizational development, and expansion into global operations and additional products and services. This data is leveraged to ensure that the key talent is there to support business strategic expansion.
One HCM tool that is widely popular is Oracle HCM Cloud because it can help an organization manage its entire employee lifecycle. It is built as a single global cloud solution across human resources, talent management, learning, talent acquisition, work life, HR help desk, payroll, benefits, compensation, and time and labor.  Additionally, it can connect your organization by creating a broader Oracle enterprise cloud with applications across Finance, Supply Chain, Service, Sales, EPM, and Marketing. This can drive business value through better user engagement and adoption, streamlined processes, improved productivity, easier IT deployment, and lower total cost of ownership.  The results are impactful: A mid-sized oil and gas company recently implemented Oracle HCM Cloud and was able to realize a 50% decrease in administrative tasks.  Both automation and consolidation of systems were key to this efficiency.
2. Reduce IT and testing costs with one upgrade calendar
HR departments have many types of software to help them manage their data and processes – some niche and specialized, others that span a few functions.  It's not surprising that it becomes an almost full time job to manage the updates and contracts for each of these tools.   Take a look at this visual to see this come to life: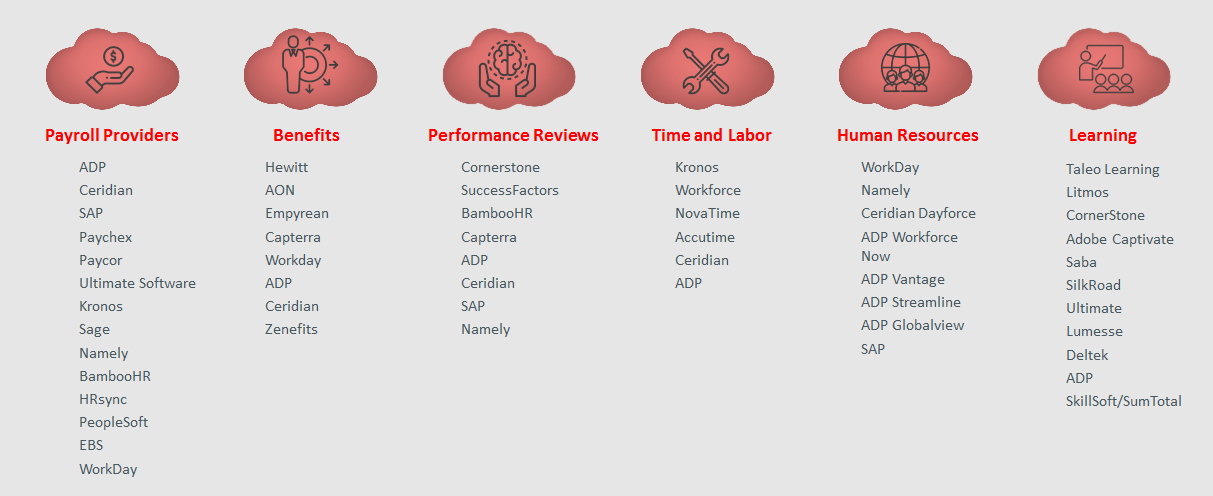 Graphic: Sample alternate software choices that HR departments use to manage their data and processes.
An HCM Cloud Solution combines all of these functions and technologies into one system and all upgrades and new features are automatic, at little or no additional cost with no disruption in service.  Add to this the artificial intelligence component where the HCM Cloud solution becomes more intelligent by learning repeatable processes.  Machine learning algorithms can identify employees who might be a potential flight risk.  Just knowing this information helps HR to manage pro-actively and improve response time.  Further, one system enables a company to be more nimble and agile.  Consider that once a mid-size pharmaceutical company implemented the Oracle ERP and HCM platform, it was able to expand their operations globally more easily due to their consolidation of systems.
Oracle HCM Cloud customers trust Oracle because they have been a technology and innovation leader for over 40 years and invest heavily in research and development. Frequent updates deliver new features – 80% of which are selected by their thousands of existing Oracle HCM Cloud customers. Oracle customers love that they can create future scenarios utilizing emerging technologies such as Artificial Intelligence, Chatbots, and the Internet of Things (aka smart devices) that are a result of Oracle's nearly $6 Billion investment in research and development.  Being able to predict future outcomes is key to business strategy in the 21st century.
3. Increase security of sensitive information with single sign-on
Employee compensation and social security numbers are just a few examples of extremely sensitive data.  When this information is stored in multiple systems it compounds the risk of a data breach.  A single-sign on feature with two-factor authentication is becoming the norm because it works to protect confidential information from getting into the wrong hands.  It also helps with restricting the PII (Personally Identifiable Information) compliance rules that are standard in today's world.
With Oracle HCM Cloud, there is multi-layered security, data encryption by default and state-of-the-art data centers. Oracle's cloud platform offers security, scalability, availability and performance by running on best-in-class Oracle cloud infrastructure and providing unified identity and security management. In addition, Oracle employs some of the world's foremost security experts in information, database, application, infrastructure, and network security.
In Conclusion
The power and agility of HCM Cloud certainly gives the HR practitioner the ability to add value beyond the core HR functions and to truly have a seat in the boardroom and provide key insights to improve business decision-making.  It's an exciting time to be in HR and it's about time!